Metaverse Games List to Earn Crypto Rewards in 2023
17 June
Sara Wahba
Meta Games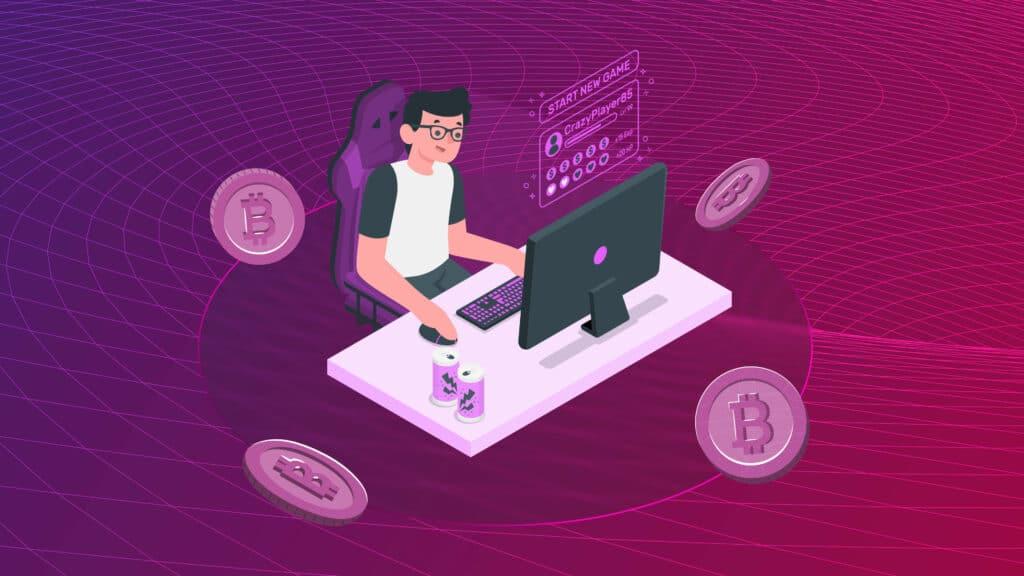 The exciting Metaverse games list can be an incredible opportunity to earn money! In recent years, the perception of online gaming has undergone a remarkable transformation. What was once merely a form of entertainment has now become a legitimate avenue for additional income, all thanks to the rise of the metaverse, groundbreaking technological advancements like NFT Collections, and revolutionary blockchain technology.
Today, people of all ages are delving into metaverse games, drawn by their unique potential to generate earnings. The enticing gaming models of play-to-earn (P2E) and free-to-play (F2P) have captivated audiences on a massive scale, contributing to the metaverse's growing popularity. As technological development accelerates, predicting the precise features emerging in the metaverse world becomes challenging.
However, one thing is certain: the metaverse is here to stay, and the online gaming market is set to explode in the years to come. To help you navigate this exciting realm and make the most of its earning potential, we have curated a list of the best metaverse games that allow you to earn money. Get ready to dive into a world where play and profit go hand in hand!
Farmers World is one of the exciting metaverse games on the market, operating on the WAX blockchain platform. This immersive game allows anyone to participate and become integral to the Farmer's ecosystem. To embark on this virtual farming adventure, players need to register and own a WAX wallet and acquire essential tools such as Wood (FWW), Food (FWF), and Gold (FWG). Rewards can be earned in several ways within the game's vibrant virtual world.
One way to earn rewards is through resource mining. Players can gather Wood, Food or mine Gold, which can then be sold in the in-game marketplace. Additionally, the Exchange option can exchange these resources with other players. For example, players can trade Wood for Gold, expanding their resource portfolio and increasing their potential profits.
Another avenue for earning rewards in Farmers World involves animal husbandry and crop cultivation. Players can raise farm animals like cows, chickens, and bulls and cultivate crops like Corn and Barley. By nurturing and tending to these virtual assets, players can sell them in the secondary marketplace, earning a handsome profit. Furthermore, the resources obtained from these animals, such as Milk, can be exchanged for other resources like Barley, providing additional avenues for financial growth and diversification.
Farmers World stands among the top metaverse games, offering players an immersive and rewarding experience as they engage in a virtual farming adventure. With resource mining, animal husbandry, and crop cultivation at the core of its gameplay, the game presents numerous opportunities for players to earn rewards and thrive within its dynamic ecosystem.
Axie Infinity, a top-tier metaverse game with a massive fan base, allows players to earn money through Ethereum-based cryptocurrencies. To begin playing, one must acquire three Axies from the Axie Marketplace, each possessing unique characteristics determining their role in battles. Before purchasing, one must familiarize oneself with the battle mechanics and Axie fundamentals.
Earning money on Axie Infinity primarily involves actively participating in the game. Players receive Smooth Love Potion (SLP) as an in-game digital currency as they progress. The following methods can help accumulate SLP:
Daily Quest: Completing the daily check-in, which includes 10 Adventure mode levels and five Arena matches, rewards you with 25 SLP.
Adventure Mode: Players can earn a maximum of 50 SLP daily by undertaking PvE missions called ruins.
Arena Mode (Player vs. Player): Engaging in Arena battles, where they spend the energy, enables players to compete for SLP based on their rating.
Axie Infinity stands out among metaverse games, offering lucrative opportunities for players to earn money. Players can accumulate SLP and benefit from their in-game efforts by actively participating in the game and strategically utilizing the available avenues.
Splinterlands, a main crypto game in the market, operates on the Hive blockchain and is available on Android mobile devices. The game's native currency is Dark Energy Crystals (DEC), and the Hive blockchain supports decentralized apps, games, and crypto-wallets.
Splinterlands allows players to convert their game cards into ERC-721 tokens, which can then be traded on NFT marketplaces like OpenSea. Additionally, the game has cross-compatibility with other blockchains such as Ethereum, Tron, and WAX, expanding the opportunities for veteran crypto users.
Players can earn money in Splinterlands through various methods:
Tournaments: Participating in ranked mode battles rewards players with DEC for each victory. Additionally, winning two consecutive games grants bonus DECs.
Daily Quests and Season Rewards: Completing daily quests allows players to earn gifts, and every 15 days, at the end of a season, players receive season rewards.
Card Flipping: Engaging in the buying, selling, and renting packs and cards within the game can generate income for players.
Burning Cards: Players also have the option to burn cards, which effectively removes them from existence but provides DEC rewards in return.
In the first quarter of 2022, Splinterlands introduced SPS DAO (Decentralized Autonomous Organization) and SPS Oracles as part of its roadmap, further expanding the game's features and possibilities.
Splinterlands is a noteworthy addition to the metaverse games list, offering a lucrative gaming experience built on blockchain technology. With opportunities for earning DEC through battles, quests, trading, and burning cards, players can immerse themselves in a dynamic and rewarding crypto-gaming environment.
Illuvium, an exciting play-to-earn NFT creature collector and auto battler game is developed on the Ethereum Blockchain. Also, they will release the game on PC and Mac in 2022, offering players an immersive gaming experience.
Illuvium stands out by granting players a strong sense of ownership over their in-game assets. Furthermore, they mint every captured Illuvial, farmed material or item as an NFT and securely store it in players' crypto wallets. Also, the Ethereum blockchain verifies each NFT's ownership, allowing players complete control over their digital assets. Moreover, this ownership enables players to collect and trade NFTs in the marketplace according to their preferences.
In Illuvium, players can earn crypto in ILV tokens as in-game rewards through various activities. Also, these include playing the game, completing PVE quests, accomplishing exceptional achievements, and emerging victorious in tournaments and events. These ILV tokens and sILV serve as the game's ERC-20 cryptocurrencies, powering the ecosystem.
Illuvium undoubtedly deserves a spot on the metaverse games list, offering a play-to-earn experience where players can own their in-game assets. With the ability to earn ILV tokens through gameplay and participate in a thriving marketplace, players can immerse themselves in a rewarding and engaging blockchain gaming adventure.
The Sandbox, a leading metaverse game known for its potential monetary benefits, embraces a play-to-earn model and uses blockchain technology. This community-driven game provides a platform for users to play, create, and monetize voxel assets and gaming experiences. Voxel assets, which are 3D pixels, serve as the foundation for crafting digital items within the game.
Sandbox players can create and convert their digital assets into NFTs and then upload them to the game's marketplace. Moreover, assets purchased from the marketplace can be added to players' inventories for use on their LAND or avatar. Alternatively, players can incorporate these assets into their games or resell them on the marketplace, opening avenues for financial gains.
SAND, an ERC-20 token residing on the Ethereum blockchain, is the native utility token within The Sandbox game. It facilitates various in-game transactions and interactions.
To earn rewards in The Sandbox, creativity plays a vital role. Whether through artwork creation or game design, players can create unique items and sell them to earn SAND tokens. Additionally, owning a patch of LAND within the game can be lucrative. Also, increased player investment can drive the LAND value and yield profits. Renting out LAND to game designers or other players without their LAND is another avenue for earning SAND. Furthermore, participating in gaming platform competitions can also lead to SAND rewards.
The Sandbox secures its place on the metaverse games list, offering a play-to-earn experience where creativity is key. Furthermore, by leveraging artistic skills, game design prowess, LAND ownership, and active participation, players can earn rewards and potentially generate income within the vibrant virtual world of The Sandbox.
Metaverse Games List: Conclusion
In conclusion, metaverse games offer many opportunities to earn crypto rewards. The games mentioned in this article, including Decentraland, Sorare, Metastrike, and My Neighbor Alice, are just a few examples of platforms where you can augment your income. However, conducting your own research and exercising caution before venturing into any investment-related decisions is crucial.
Take the time with Metastack to explore and discover the metaverse games that align with your interests and goals, ensuring a well-informed approach to capitalize on the potential rewards.