The Sociological Impact of Living Between Real and Virtual Worlds
19 October
Sara Wahba
Meta General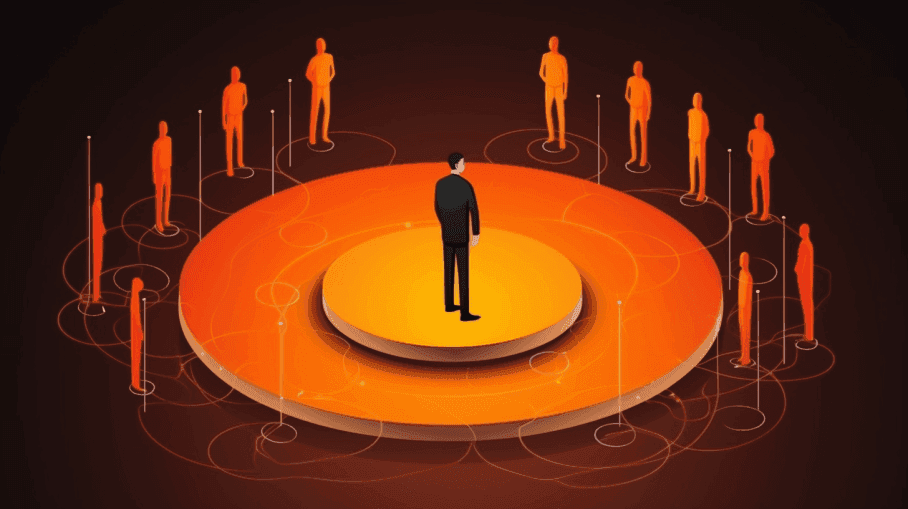 In today's interconnected world, where technology continues to evolve at an unprecedented pace, we find ourselves increasingly caught between two contrasting dimensions of existence: the real and virtual worlds.

Join Metastack as we explore the sociological impact of living between these two realms, exploring the importance of virtual reality, the primary virtual worlds, and the complexities of actual vs. virtual existence.
Brief History of Virtual Worlds
The history of virtual worlds is a rich tapestry of innovation and imagination. Let's take a look through the most significant moment in this timeline:
Early Conceptualization (1920s): Science fiction writers lay the conceptual groundwork for virtual worlds.


Emergence of Computer Graphics (1970s): Computer graphics became instrumental in creating early virtual environments.


Interactive Virtual Worlds (1990s): "Habitat" and "Second Life" mark the transition to interactive virtual realms.


The proliferation of Virtual Worlds (2000s): MMOs, social media platforms, and AR applications expand virtual experiences.


Rise of VR Platforms (2010s): Dedicated VR platforms like Oculus redefine immersive experiences.


Ongoing Evolution (2020s): Virtual worlds continue to grow, impacting education, commerce, and society.
This timeline illustrates the evolution of virtual worlds from their inception in early science fiction to the present day, showcasing their dynamic and transformative nature.

Read: A Brief History of Virtual Worlds Leading to the Metaverse
The Significance of Virtual Worlds in Our Society
Before we dive into the sociological impacts, it's essential to understand why virtual worlds have become such a significant part of our society.
Why is Virtual Reality Important?
Virtual reality (VR) is not just a form of entertainment. VR offers a gateway to experiences that would otherwise be impossible or impractical.

From immersive gaming and interactive simulations to remote training and virtual travel, it has transformed how we engage with the virtual worlds.
Virtual worlds harness the power of VR and utilize it in every aspect of their existence. VR is our future that already establishes and changes not only the virtual worlds but also the real ones.
The Primary Virtual Worlds
Virtual worlds come in various forms, each catering to different needs and interests. Some of the primary virtual worlds that have had a significant impact on our society include:
Social Media: Platforms like Facebook, X (Twitter), and Instagram have become virtual spaces for social interaction, sharing life moments, and forming online communities.


Online Gaming Worlds: Games like "World of Warcraft" and "Second Life" offer immersive experiences where players can build relationships, create businesses, and explore expansive virtual landscapes.


Augmented Reality (AR): AR apps like Pokemon blend virtual elements with the real world, changing how we interact with our surroundings.


Virtual Conferencing: Virtual conferencing tools have become essential, facilitating remote work, meetings, and events.
The Challenges of Real vs. Virtual Existence
Living in natural and virtual worlds presents unique challenges with implications and complexities. These challenges include:
Identity and authenticity
In virtual worlds, individuals often create avatars or personas that may differ significantly from their authentic selves.

This fundamental distinction raises questions about authenticity and the potential for deception. Users can craft identities that may not accurately represent their real-world personas.

This duality can give rise to a sense of detachment from one's true self and complicate trust within virtual communities.

Read: The Future of Digital Identities: Avatars, Anonymity, and Authenticity
Quality of social interaction
One of the challenges of navigating virtual worlds is the quality of social interaction. The absence of non-verbal cues can make it challenging to convey emotions and intentions accurately.

This limitation can lead to misunderstandings, misinterpretations, and sometimes, the unintended escalation of conflicts.

It requires users to be more explicit and mindful in communication to bridge the gap between real and virtual emotional expressions.

Read: Meta Social Impact: How The Metaverse Is Changing Social Interaction
Escapism and addiction
Some individuals may become so deeply immersed in virtual worlds that they use them to escape from the complexities and responsibilities of the real world.

This escapism can be particularly enticing when virtual worlds offer a more controlled and appealing environment than one's actual life.

However, excessive escapism can lead to a neglect of real-world responsibilities, including work, relationships, and personal well-being.
The Positive Sociological Impact of Virtual Worlds
While virtual worlds pose challenges, they also offer a multitude of positive sociological impacts:
Global connectivity
Virtual worlds break down geographical barriers, enabling individuals to connect and collaborate with people from diverse cultural backgrounds.
This fosters cultural understanding and international cooperation.
Education and training
Virtual worlds enhance the accessibility of education and training, making it easier for individuals to acquire new skills and knowledge. Students can:
explore historical eras

conduct complex experiments

immerse themselves in simulations that would be infeasible in the real world
Economic opportunities
Virtual worlds have created new economic opportunities, for example, gaming.
The gaming industry has grown exponentially, creating jobs and opportunities for game developers, streamers, and esports professionals.

In addition, virtual real estate markets, virtual commerce, and digital art markets have emerged as viable economic sectors.
Community building
Virtual communities provide a safe space for individuals struggling to find like-minded people in their physical surroundings.

People with niche interests, hobbies, or unique identities can find solace and support within these communities, fostering a sense of belonging and connection.
Adverse Effects of Virtual Reality
However, it's essential to acknowledge the potential adverse effects of living in virtual worlds:
Isolation
Excessive time spent in virtual worlds can lead to isolation from real-life social connections. This isolation can be detrimental to mental health, leading to feelings of loneliness and disconnection.
Physical health
Prolonged use of VR can result in physical health issues. Users may experience eye strain, motion sickness, and a sedentary lifestyle, contributing to various health problems, including obesity and musculoskeletal issues.
Privacy concerns
As more of our lives migrate to the digital realm, privacy concerns, concerns about surveillance, and cyberbullying become increasingly significant.

Virtual worlds can expose users to privacy risks, from data breaches to online harassment.
Desensitization
Exposure to violence and other disturbing content in virtual worlds can lead to desensitization, potentially affecting individuals' empathy and emotional responses.

This can be particularly concerning when virtual violence desensitizes individuals to real-world violence.
Balancing Real and Virtual Worlds
Finding the right balance between real and virtual worlds is essential for a healthy and fulfilling life. Here are some strategies for achieving this balance:
Set boundaries
Create specific time and space for virtual worlds interactions, ensuring they don't interfere with your real-life responsibilities and relationships.

Establishing limits on screen time and setting aside dedicated periods for real-world activities can help achieve this balance.
Practice digital etiquette
Maintain respectful virtual reality etiquette, just as you would in real life. Both online and offline, treating others with kindness, empathy, and respect helps maintain healthy relationships in virtual worlds.
Mindfulness
Be aware of your virtual activities and how they affect your mental and emotional well-being.
Practice self-awareness and moderation, reflecting on the impact of your virtual interactions on your life.
Stay informed
Keep abreast of the latest developments in virtual worlds and the associated risks and benefits. Staying informed lets you make well-informed decisions about virtual interactions and their roles.
Foster real-world connections
Prioritize face-to-face interactions and maintain strong connections in the physical world. Real-world relationships are essential for emotional well-being and social development.
What Waits for Us in the Future?
In the future, as technology continues to advance, the connection between real and virtual worlds will evolve significantly. This evolution will bring about:
Immersive VR Experiences: VR technology will become more sophisticated, offering users more immersive experiences for gaming, education, and therapy.


Augmented Reality (AR) Applications: AR seamlessly blends digital information with our daily lives, transforming navigation, education, and entertainment.


Ethical and Sociological Challenges: New questions will emerge concerning privacy, data security, and the societal impact of virtual and augmented realities, requiring careful consideration.


Adaptation: Adaptability and continuous learning will be essential as we embrace these changes. Education and awareness about responsible technology use will play a vital role in this evolving landscape.
The future of real and virtual worlds interaction is promising but presents novel challenges, necessitating adaptability and responsible navigation of these dynamic changes.
Final Thoughts
Living between real and virtual worlds is a defining feature of the modern era.

We can harness the potential benefits while mitigating the adverse effects by understanding the importance of virtual reality, the primary virtual worlds, and the complexities of this dual existence.

As we navigate this dynamic landscape, finding a harmonious balance between these two realms is crucial for a more connected, fulfilled, and meaningful life.

Keep up with Metastack and learn everything you need to know about virtual worlds!