What Metaverse B2B Companies Will Benefit The Most 
13 May
Sara Wahba
Meta General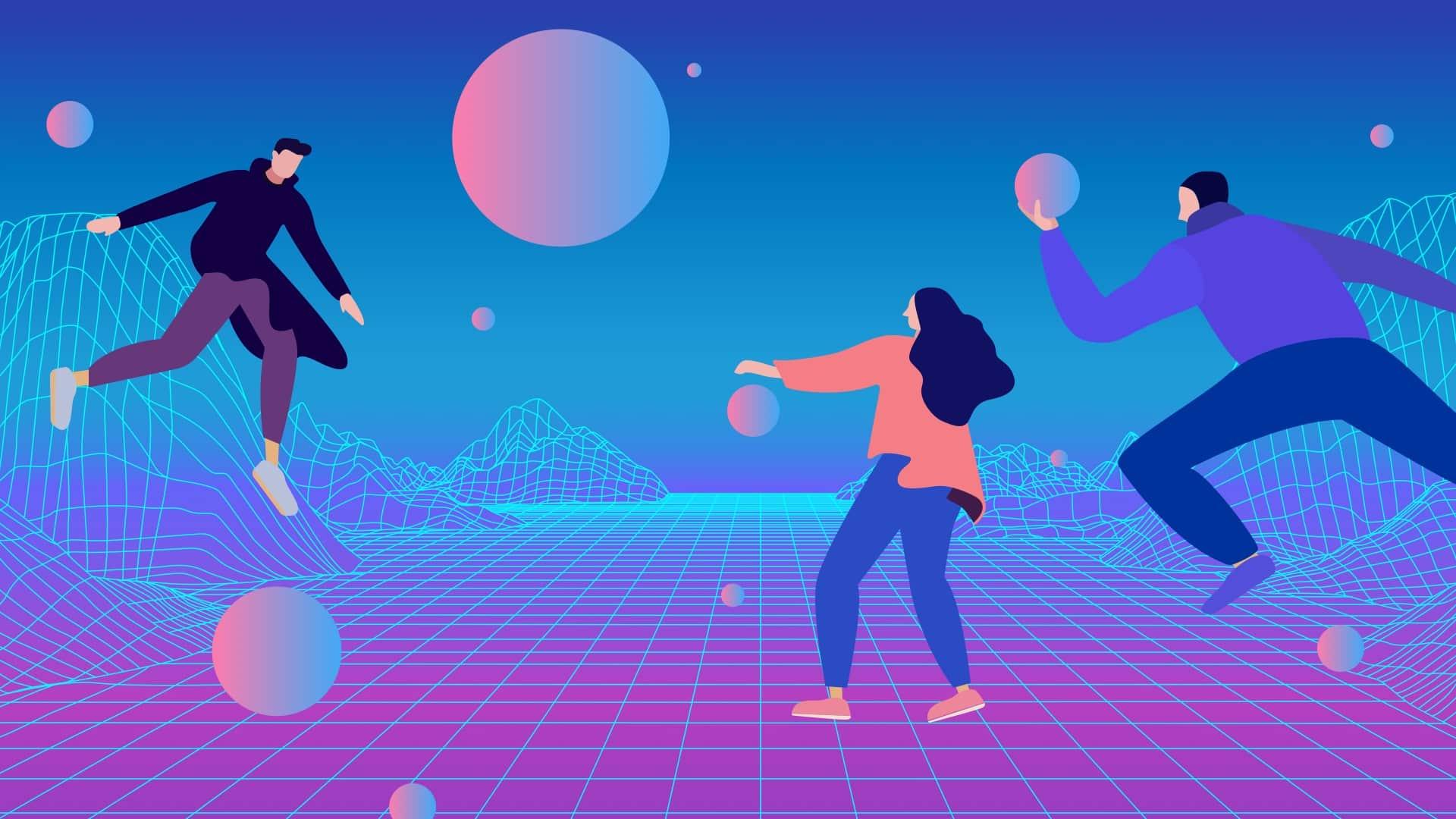 As the metaverse concept rapidly materializes, industries across the B2B landscape eagerly explore this groundbreaking technology to discover innovative collaboration methods. In this article, Metastack will delve into which companies are poised to harness the immense potential of virtual worlds and examine the far-reaching impact that awaits us in the coming years. Join us as we explore the exciting possibilities for Metaverse B2B companies backed by relevant examples and insightful analysis.
What Does the Metaverse Mean for B2B Companies?
The metaverse refers to a new internet iteration encompassing a universal, immersive virtual world or interconnected 3D worlds. It has gained attention as a concept that could revolutionize online experiences. Joining the metaverse typically requires minimal equipment, such as a smartphone.
In recent years, B2B companies have relied on tools like Zoom, webinars, and emails to connect with vendors and buyers. Forward-thinking businesses have also started utilizing VR and AR technologies to enhance marketing events. As a result, many experiences are transitioning to virtual worlds. Given this shift, exploring metaverse applications for B2B becomes relevant.
Therefore, it is worth considering the metaverse's potential benefits and uses cases for B2B companies. By embracing metaverse technologies, businesses can tap into various opportunities for virtual networking, collaboration, and immersive experiences. Engaging in the metaverse allows B2B companies to stay ahead of the curve and explore innovative ways to connect with clients, showcase products and services, and create unique interactive experiences.
How The Metaverse Can Transform B2B Enterprises?
The emergence of the metaverse is driving a shift in how businesses approach marketing and engagement, similar to the impact of social media. It provides an elevated platform for connecting with customers and meeting them where they are. Understanding the best opportunities within the metaverse is crucial for B2B companies to capitalize on their potential for marketing.
Microsoft is working towards creating an "enterprise metaverse," integrating workplace productivity tools such as video meetings, Microsoft 365 apps, and Teams content into the metaverse using Meta Quest devices. This innovative approach allows users to utilize VR to access familiar applications like Excel, Word, Outlook, and SharePoint. Microsoft aims to offer its entire suite, including Windows, directly through the metaverse.
As interest in the metaverse grows among agencies and marketers, more B2B businesses are expected to join this movement. Companies leverage the metaverse for virtual events, brand collaborations, and advertising. This presents opportunities for various B2B industries to benefit from this transformative change in marketing strategies.
B2B Industries Where the Metaverse Impact is Going to Be Big
In B2B, the transition from product-based offerings to providing products as a service is gaining momentum. This evolution, often called MaaS (Metaverse as a Service), resembles the transformative impact of SaaS in the IT industry. However, what holds paramount importance now is the ability to cultivate profound and enduring customer relationships, a facet that can be achieved and amplified through the metaverse.
By embracing the metaverse, B2B businesses can foster deeper customer connections. This immersive virtual environment allows for enhanced engagement and interaction, facilitating the development of long-lasting partnerships. Just as SaaS revolutionized the IT industry by shifting from traditional software licensing to a subscription-based model, the metaverse has the potential to reshape B2B dynamics, emphasizing the significance of continuous and meaningful customer relationships.
B2B Marketing Use Cases in Web3 and the Metaverse
The metaverse presents B2B opportunities for companies to promote their offerings through Web3. By embracing this immersive environment, businesses can engage with other companies, foster collaborations, and drive innovation.
Metaverse B2B interactions facilitate networking, supply chain optimization, virtual conferences, training programs, and virtual marketplaces for seamless transactions. Incorporating Web3 technologies enables companies to tap into new revenue streams and gain a competitive edge in the evolving digital landscape.
1. Metaverse Brand Collaborations
With the expansion of social media (Web2), brands have increasingly relied on collaborations and influencer marketing to promote their offerings. However, the landscape is expanding further as the power of NFTs and cryptocurrencies magnifies these marketing efforts. Notably, numerous metaverse brand collaborations have emerged.
For instance, Nike unveiled NIKELAND, an interactive Roblox world, encouraging real-life physical activity through engaging mini-games.
Samsung partnered with Decentraland to establish its Metaverse store, mirroring its physical location in NYC, which has already attracted 120,000 customers.
Additionally, Coca-Cola embraced the metaverse by launching an NFT collection on OpenSea, commemorating Friendship Day and offering bidding winners a real-life stocked refrigerator.
These examples illustrate how brands leverage the metaverse for B2B engagements, forging innovative partnerships and leveraging emerging technologies to enhance their marketing endeavors.
2. Metaverse Advertising
Regardless of the era, one constant remains: traffic holds value. Previously, companies utilized physical billboards to promote their products and services to passersby.
In the metaverse, this principle still applies, but with a digital twist. Now, billboards have transformed into digital entities.
Advertising in the metaverse is as simple as renting space on platforms like Decentraland, The Sandbox, or CryptoVoxels.
Moreover, it becomes an even more compelling idea during events where a larger audience can be targeted.
While billboards are a traditional advertising method, there is room for experimentation with innovative approaches to showcase offerings.
The metaverse offers endless possibilities for B2B engagements. This enables companies to strategically display and market their products and services in novel and impactful ways.
3. Metaverse Product Showcases and Sales
Numerous companies leverage the metaverse to exhibit their latest products and conduct immersive demonstrations. Roblox hosts branded shops from prominent names like Chipotle, Forever 21, Verizon, and Nike.
These spaces allow anyone to explore digital goods and services and make purchases within the metaverse. Astonishingly, a virtual Gucci Dionysus bag recently fetched a staggering $4,115, surpassing the value of its physical counterpart.
Additionally, some organizations incorporate augmented reality (AR) capabilities into their eCommerce platforms. This enables customers to familiarize themselves with products and experience them firsthand before purchasing.
In essence, B2B companies can utilize the metaverse as a powerful tool to showcase their capabilities and provide customers with an immersive preview of their offerings.
This strategic approach allows businesses to create an engaging and interactive environment that entices potential buyers and fuels interest in their products and services.
4. Metaverse Rewards
In the metaverse, B2B businesses have an exciting opportunity to uniquely reward their clients, partners, and shareholders.
Instead of the traditional gesture of sending a bottle of champagne, a compelling alternative is to create an NFT collection airdrop and distribute distinctive assets directly into their wallets.
This innovative approach allows for a digital collectible series creation that holds inherent value and serves as a memorable token of appreciation.
Furthermore, businesses can give their followers special tokens that grant access to exclusive gated content, such as restricted videos, webinars, and Ask Me Anything (AMA) sessions.
By leveraging the metaverse, B2B companies can engage and incentivize their stakeholders through immersive and personalized experiences, fostering deeper connections and enhancing brand loyalty in this evolving digital landscape.
5. Metaverse Relationship Development
The metaverse offers diverse ways for companies to strengthen bonds with customers and partners in the B2B. A prime example is assisting clients in hosting their experiences and facilitating their entry into this revolutionary technology.
Furthermore, whether exploring areas crafted by professionals or designing custom spaces, businesses can invite customers and partners to partake in these immersive encounters.
Moreover, the metaverse empowers companies to operate from virtual offices, enhancing convenience and flexibility efficiently. Leveraging the metaverse as a B2B entity fosters interactive experiences and deepens connections, enabling businesses to forge stronger relationships with their stakeholders.
6. Metaverse Events and Expos
One of the significant applications of the metaverse today lies in hosting virtual events, meetings, conferences, and workshops.
Furthermore, the metaverse's accessibility via smartphones, tablets, or computers enables these events to run round-the-clock, providing unparalleled accessibility for promoting B2B services and products.
Opting for a virtual conference offers several advantages. This includes real-time lead insights, delivering exceptional and unforgettable experiences, establishing brand credibility, and significant cost savings.
Moreover, companies can leverage virtual events to gather valuable leads, create impactful interactions, strengthen their brand reputation, and optimize financial resources.
This dynamic and immersive approach to hosting events in the metaverse opens up new possibilities for businesses to connect with their target audience, foster meaningful relationships, and generate positive outcomes in the ever-evolving digital landscape.
7. Metaverse Hiring
The metaverse offers an excellent avenue for B2B companies to expand their network and engage with potential expert employees. Leveraging the expertise of metaverse professionals can enhance the design of engaging experiences. In addition, providing insights into the preferences and requirements of the new generations.
Moreover, by transitioning the entire business to this platform, companies can utilize the metaverse as a recruiting tool to attract and hire new talent.
While the exact future form of the metaverse remains uncertain, one thing is clear: businesses will require individuals with extensive IT knowledge to transform their B2B plans into virtual reality.
By embracing the metaverse and its associated technologies, companies can ensure a competitive and creative edge in their recruitment efforts.
The metaverse provides a unique platform for sourcing and acquiring top talent. That enables businesses to tap into a pool of skilled professionals who can turn their virtual ambitions into tangible reality.
Metaverse B2B: Conclusion
In conclusion, the metaverse offers vast opportunities for B2B companies to thrive and gain a competitive edge. By embracing this transformative technology and incorporating Web3 advancements, businesses can showcase products, host virtual events, expand networks, and engage with stakeholders. Furthermore, the metaverse enables innovative marketing strategies, rewards stakeholders with unique digital assets, and facilitates talent acquisition. Adapting to the metaverse's potential allows B2B companies to navigate the digital future, fostering growth and innovation confidently.